Ashmolean Museum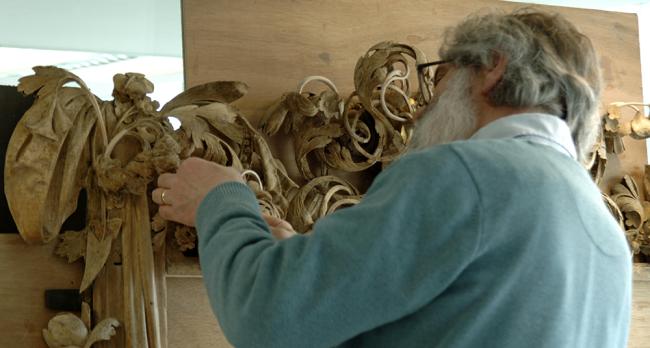 © Ashmolean Museum, University of Oxford
Restoration of Elias Ashmole's 17th century frame carved by Grinling Gibbons.
Idlewild Trust made a grant towards the repair and restoration of the carved wooden frame by Grinling Gibbons which surrounds John Riley's famous portrait of Elias Ashmole.  The limewood frame had extensive ongoing problems due to broken sections of structural importance, old insect damage, numerous old failing repairs and delaminating sections of gilding. 
Examination revealed that the frame's limewood surface had originally been undecorated. It had become ingrained with soot and darkened naturally with age for many years before being thickly painted in white paint and gilded towards the end of the nineteenth century. (It was not until 1885 that a hot water heating system was installed in the museum to replace the burning of wood and coal.)
The Ashmolean employed Timothy Newberry to undertake the repair and restoration of the frame. Delicately carved shapes together with fine details were revealed by the removal of the thick paint, which had not been intended to be hidden.  This allowed many of the various plants to be identified and seen as they would have been seen by the seventeenth century visitors.  Missing sections of scrolling decoration with importance to the integral strength of the frame were replaced with new sections of carved and toned limewood. Insect tunnelling damage was consolidated, filled and retouched.
The restored frame was returned to the Ark to Ashmolean Gallery in 2014 where it was central to a temporary display designed by six Oxford postgraduate students working with the Ashmolean University Engagement Programme. The frame was also the subject of two articles for the Ashmolean Magazine, a paper presented at the Oxford Conservators' Group annual forum and an online article
£3,500 grant in November 2013 towards the overall costs of the project.
The Trust's support made a tremendous difference to our understanding and interpretation of the frame, as well as ensuring its care and preservation. So the grant has had a huge impact, and we remain very grateful.