Lichfield Cathedral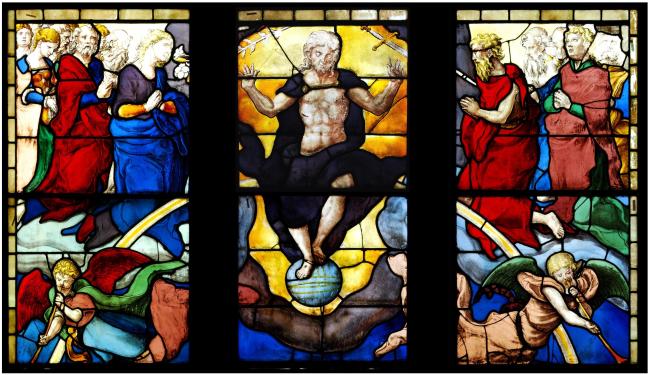 With kind permission of Lichfield Cathedral
The repair and restoration of the Lady Chapel at Lichfield Cathedral included the cleaning and conservation of priceless Renaissance Herkenrode painted glass.
The seven sixteenth century windows were originally made for Herkenrode Abbey from 1532-1539 by the Antwerp workshops of Pierre Coecke who brought Italian Renaissance ideas to Netherlands. The windows are believed to be the finest and largest un-restored work of Early Renaissance period from the Low Countries.  Following the dispersal of the monastic community at Herkenrode at the end of the eighteenth century and subsequent selling of the abbey, the windows were installed in the Lady Chapel at Lichfield in 1803.  Idlewild Trust awarded a grant towards the conservation of the glass.
The glass was removed to safe storage before being transported to Barley Studio in York where the painstaking work was carried out.  Throughout 2014 the glass was cleaned and disfiguring lead 'spider-web' repairs replaced where possible.  Work undertaken countered 200 years of pollution, weather and ugly repairs of nineteenth century and post World War Two fittings. Details of facial features were restored in places by a technique of 'cold painting' on the reverse of the glass.  . 
In September 2014, initial work began to prepare the Lady Chapel for the reinstatement of the glass.  Furnishings were removed and protective cladding was placed around the altar and the delicate stonework of the Lady Chapel.  Scaffolding was erected, almost filling the Lady Chapel, to allow the team from Barley Studio to reach every part of the seven large windows with ease. As all the work was carried out from inside the building and the protective isothermal glass remained in place. The weather did not interrupt the work.  The installation work was completed on schedule at the end of January 2015.  Lichfield Cathedral has seen that even in the gloom of late winter the colours in the newly-cleaned glass seem to glow. 
During February 2015 the scaffolding was removed and the Lady Chapel cleared.    A Service of Thanksgiving and Rededication was held on 10th March 2015.
Idlewild Trust awarded a £4,000 grant in May 2014.