Scottish Opera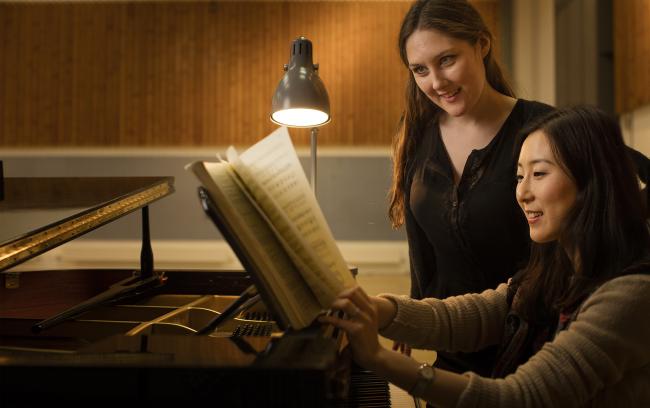 Emerging Artists: Emma Kerr (2015-2017) in practice session with repetiteur Soojeong Joo; photo: James Glossop
Scottish Opera Emerging Artist Programme
Scottish Opera ensures that talented young singers are nurtured and supported as future performers for the international stage. Its Emerging Artist programme was launched in 2009 and aims to support artists based in Scotland by improving their employability through professional performance experience. Over the course of eight years, 20 talented singers have taken 24 singing placements, developing and honing their performance skills in a professional environment
When compiling a year's programme for each singer, the programme's aim is to develop the artistic, professional and personal skills of each individual: their different skills set and professional needs are carefully considered.   The performance opportunities offered to each singer are carefully chosen to consolidate and stretch the skills of each singer giving them a breadth of experience that would be impossible to accumulate unless under the stewardship of this programme.   
In addition to these performance roles, each signer takes part in concerts and fundraising events as well as taking part in a range of Scottish Opera Education and Outreach activity.  These additional events provide valuable experience and improving the employability of each singer.
The programme is very intense and the singers work hard.  Scottish Opera regularly receives feedback from visiting directors and staff at other opera companies who note that the Emerging Artists have a well developed work ethic and strong sense of self and stamina.
Since Idlewild Trust awarded the programme a grant in November 2013, three singers 'graduated' from the programme in August 2014 and two new singers began. The graduates from the programme – mezzo soprano Sioned Gwen Davies, baritone Andrew McTaggart and soprano Sarah Power - have each had the experience of learning one role while performing another, together with the demands this makes of their stamina, and indeed of their lifestyle.
Each of the 'graduated' Emerging Artists has secured contracts of employment.  This quantitative measure of success indicates the programme has had a positive impact on each singer.
Idlewild Trust awarded grants towards the Emerging Artists programme of £3,000 in 2013 and 2016
Support from Idlewild Trust enables us to timetable masterclasses for the singers, bringing them up close to experienced professionals from whom they can learn vast amounts about performing, managing their voice and approaching the rehearsal room - Alex Reedijk, General Director, Scottish Opera